E-Newsletter for
March 24, 2023



Have you ever noticed that the line for Holy Communion is long but the line for confession is short - or otherwise non-existent? Why is that? There was a time when the opposite was true. Today, however, we see less and less folks making their way to confession and yet more and more presenting themselves to receive the Eucharist - the real presence of Jesus Christ.


Perhaps the reason is this: judgment. We are afraid of being judged - by the priest, by God... Truthfully, who likes to be judged harshly? No one! And maybe we have been harshly judged once in the confessional and that was enough to convince us never to return. I offer you this, rather poor, anecdote: many people avoid going to see their doctor because they are afraid the doctor is going to pronounce some harsh diagnosis, that he or she may tell us that we are seriously ill. But what if, in the same breath, the doctor also said that there is a cure, there is treatment that could save your life. Had you let it go, you would have eventually died, but since you sought out the doctor, now you will live... would you not be grateful? Friends, this is the nature of confession. The confessional is a tribunal of mercy, not condemnation. It is a place where the Divine Physician offers healing for the sickness of our souls. The tribunal of mercy is an act of love. It is not a place to neglect or to avoid; rather it is place where God restores our spiritual health, sets us back on the right path, and where we are once again oriented toward Him, toward a deeper communion with our God. At Holy Name we ample opportunities to go to confession these Lenten days:

Wednesdays 5pm-6pm
Saturdays 3:30pm-4:15pm
Sunday March 26, 2023: Annual Lenten Penance Service at 4:30pm
Don't let this Lent go by without making a good confession... God's mercy waits for you to come and show Him your heart, show Him where you need Him the most in your life... and let the Divine Physician heal you.


News & Events
Please watch here for news and events, and join our events for good Catholic community!

The Steubenville East Conference
for high school youth is returning to Springfield. Mark your calendars for July 21-23, 2023. Registration is now open! The Diocese of Springfield is offering $75 to any student who signs up. The deadline is June 1, 2023.


Holy Hour for Vocations
The Office of Vocations is hosting a Holy Hour for Vocations to the Priesthood on Sunday March 26, 2023 at St. Michael's Cathedral with Bishop Byrne as our presider, from 2pm-3pm. All are welcome to attend.
Divine Mercy Youth Pilgrimage
The Diocesan Youth Ministry Office is sponsoring a pilgrimage to the Divine Mercy Shrine Saturday April 1, 2023. Go to the website catholicyouthrevival.org for more information and to sign up.
Joy Has a Name with Guest Speaker/Beatboxer Paul J. Kim
Penance Service
On Sunday, March 26th, we will be hosting our annual Lenten Penance Service Service beginning at 4:30pm. Please take advantage of this opportunity to go to confession before Easter!
Lenten Schedule
For the Season of Lent, there are plenty of opportunities available to deepen our life of faith:
Series of Talks on the 10 Commandments with Fr. Barrent - Join us Sundays at 2p.m. in the church.
Confessions - Our usual Saturdays from 3:30-4 p.m. (except on Holy Saturday); and Wednesdays at 5 p.m. Also, Saturdays at 9:30 a.m. on March 4th and April 1st. On April 8th, Easter Vigil Saturday, they will be from 11 a.m.-12 noon only.
Adoration - Tuesdays, 1-5 p.m.; Divine Mercy Chaplet at 3 p.m.; Rosary at 4:30 p.m. followed by Benediction.
Stations of the Cross - Fridays at 6:00 p.m. in English and at 7:00 p.m. in Spanish.
Holy Thursday - Mass of the Lord's Supper at 7:00 p.m.
Good Friday - Liturgy of Good Friday in English at 3p.m.; plus English Stations at 6:00 p.m. and Spanish Stations at 7:00 p.m.
Holy Saturday - Vigil Mass at 7:30 p.m.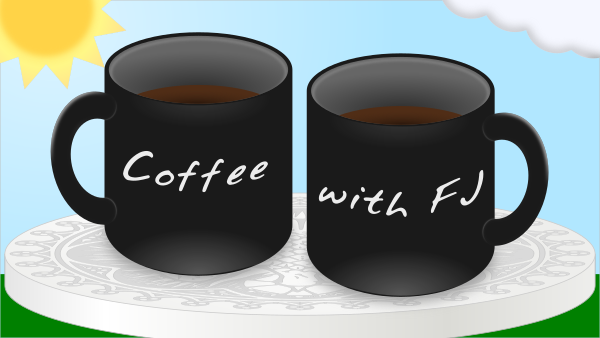 Watch new episodes of Coffee with JF here: