E-Newsletter for
April 28, 2023



I want to take this time to offer my sincere gratitude to Fr. Barrent. He came unexpectedly to Holy Name last September when Fr. Kingsley was asked to take on the parish in Northampton. Fr. Barrent has been a tremendous help to me at Holy Name. He has been instrumental in assessing some of the larger maintenance needs of the parish. As you already know I hold 3 positions in the diocese which stretches me very thin. I could not keep up with my many responsibilities without his help. So, again, my thanks to Fr. Barrent for all he has done to help me and this parish in the last 8 months. There will be a coffee and donut social after the 10:30am and 12:30pm Masses on Sunday May 21st. This will be Fr. Barrent's final weekend in the parish. Fr. Barrent will be present after the 10:30am Mass to say goodbye to folks who want to wish him well. As of right now, I am unaware as to who will be his replacement at the parish, though I do know that there will be a new priest coming on June 1, 2023. Once I have that information, I will share it with the parish. Until then, we need to pray for the new priest and for Fr. Barrent.


Speaking of prayer, I want to remind everyone that the largest Satanic conference is taking place in Boston this weekend April 28-30, 2023. I have asked that all parishioners pray in order to combat the potential evil this poses to the souls attending the conference as well as anyone else who may be affected. We do not need to draw attention to this event nor be frightened but we do need to combat evil with good. Therefore, I invite everyone to pray the rosary each day of the conference and to make one act of sacrifice in order to counter evil with good, that the potential harm that is posed to souls may find protection from our heavenly Mother and all the saints and angels. Pray the St. Michael prayer often!! Remember, evil has no power over good and Christ is mightier than the devil. Remember too, we need to pray for one another!


News & Events
Please watch here for news and events, and join our events for good Catholic community!

First Communion Rehearsal
will be held Saturday May 6th at 10:30am. First Communion will be a bilingual Mass on Sunday May 7th at 10:30am.
A Kids Craft Day
is planned for Saturday, May 13th from 10am to 12:30 for ages 8 years old and up at the Holy Name Social Center. Come and join in on the fun! And it's free!
The Legion of Mary is Sponsoring A Coffee & Donut Social
after the 10:30am and 12:30pm Masses on Sunday May 21st. All are welcome!
The Steubenville East Conference
will be held the weekend of July 21-23, 2023. This event is open to all high school youth of the diocese. Registration is now open and the diocese is offering a $75 discount for all who register. Don't miss out on this Spirit-led event!


Confirmation Mass
will be held on Sunday May 28th (at the 10:30am Mass).
Joy Has a Name Youth Event
will be held on May 12th. This event is FREE and open to all high school youth. More information can be found at joyhasaname.org.
Construction on the New Church Roof
has begun. During the next 6 weeks (or more) adoration on Tuesday afternoons is postponed and parking behind the church is prohibited - with the exception for evening events/meetings and weekends.
Want To Be A Prayer Warrior
and help Our Mother achieve victory against the evil spirits at work in our world? Join the ranks of the loving and supportive members of the Confraternity of the Holy Rosary. You will be united in prayer with them and the entire Dominican Order around the world if you simply pray the 15 (or 20) mysteries of the Rosary each week. We will be having sign-ups after each Mass April 29th and 30th.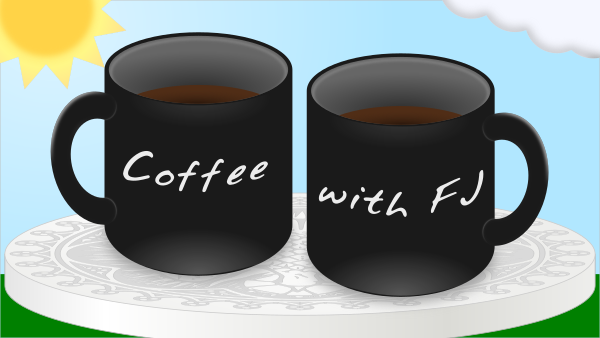 Watch new episodes of Coffee with JF here: