E-Newsletter for
May 12, 2023



As we honor our moms, grandmothers, and those who have been "like-mom" to us, we are minded that this month of May is dedicated to our Heavenly Mother ... The Mom of ALL Moms ... the Blessed Virgin Mary. In the prologue of St. John's Gospel, he writes: "the word became flesh..." And who provided the flesh but none other than Mary. God chose her in a very special way to be His vessel into the world. He needed her in that sense. Mary participates in a very unique way in Christ's mission of salvation - by giving Him his body. He grew within her womb, He came to life in her in the physical world, she nurtured and cared for Him so that He would be ready to undertake the task for which He came. In this way, Mary wasn't just a vessel. Jesus didn't dismiss her after His birth. He needed her. I often think about the way she cared for Him, showed Him love and how that must have had an influence on His way of being, in His ministry and how He showed love to His people.


How is she our mother? What role does she play in our spiritual lives? Well, simply put - if God needed her, so do we! She not only was a vessel that gave birth to the Christ child, she is the vessel that brings Him to life in us. Her role in our lives is to lead us to her Son, to show us His heart, to be an advocate on our behalf. At the same time, like a good mom, she offers us comfort, love and compassion. She helps to heal our broken hearts. So during this month of May - go to Mary. Ask her to nurture your faith, to show you love ... to show you her Son.


News & Events
Please watch here for news and events, and join our events for good Catholic community!

Holy Day of Obligation
May 18th is Ascension Thursday - a Holy Day of Obligation. Masses are as follows:

A Kids Craft Day
is planned for Saturday, May 13th from 10am to 12:30 for ages 8 years old and up at the Holy Name Social Center. Come and join in on the fun! And it's free!
The Legion of Mary is Sponsoring A Coffee & Donut Social Hour
after the 10:30am and 12:30pm Masses on Sunday May 21st. All are welcome!
Encuentro Youth Ministry is hosting a weekend retreat
at the Shrine of Divine Mercy May 26-28, 2023. Spots are filling up, register soon!
Confirmation
will be held on Sunday May 28, 2023 at the 10:30am Mass.
Construction on the New Church Roof
A reminder that while the church roof is being replaced, adoration of the Blessed Sacrament on Tuesdays is suspended until the completion of the project.
Joy Has a Name Youth Event
with speaker Paul Kim, will take place on Friday May 12th, at Pope Francis Prep. This event is free to all high school youth. Go to joyhasaname.org for more information and to register.
The Steubenville East Conference
will be held in Springfield again this summer on July 21-23, 2023. Registration is open! The Diocese of Springfield is offering a $75 discount for all diocesan youth who register for this weekend.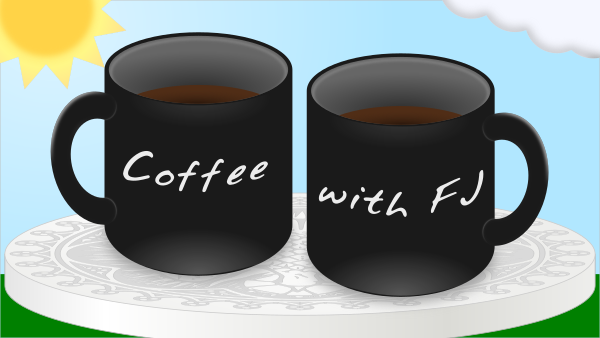 Watch new episodes of Coffee with JF here: