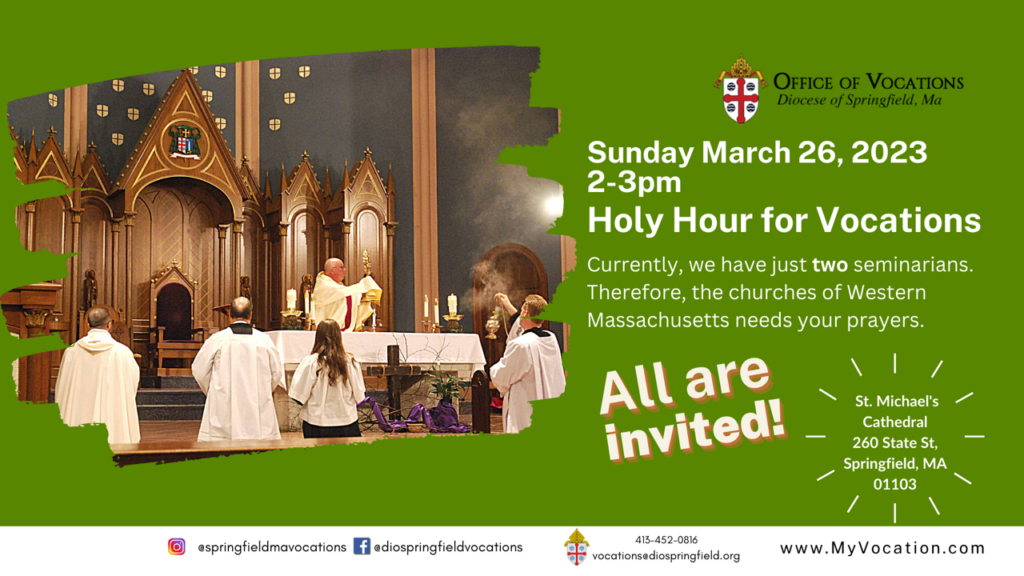 Join us for Holy Hour for Vocations. All are invited! March 26th at St. Michael's Cathedral 2 – 3 pm.
As a church community, we need to help men discern a calling to the priesthood and women a call to religious life. Most young people assume that they will get married someday. Yet even that is not given in present society. Worse still, very few consider a calling to religious life. Yet we know that without priests, there are no sacraments.
Currently, in the Diocese of Springfield, we have just two seminarians. This needs to change fast! Therefore, the Church, especially in western Massachusetts, needs your continued help. It is hoped that as we pray more deeply and intensely for vocations to the priesthood, more men will hear God's calling and not be afraid to answer Him, to be a priest. Our churches need faithful priests, and the Church needs you to pray for their vocations.
Thank you for considering this commitment to prayer.
PAX – Fr. Jonathan Reardon